May 03,2006
QUESTION:David, is "core training" really legit, or is it just the latest fad? I see the infomercials on TV and I see trainers in my ...
[full story]
7810 times read
Apr 14,2006
Aaahhh, the thought of getting up in the morning and going to the gym to lift weights or run on the treadmill. How about the ...
[full story]
2546 times read
Mar 30,2006
Most people who start a new exercise program drop out within the first two to three months. You are much more likely to continue exercising ...
[full story]
4808 times read
Mar 18,2006
Over the years, there have been people making up plenty of excuses to avoid exercising. Some of these excuses are creative, some are ridicules, but ...
[full story]
2614 times read
Feb 13,2006
By Harvey B. Simon, M.D. Author of The No Sweat Exercise Plan: Lose Weight, Get Healthy, and Live Longer Stair-climbing is the best-kept secret in exercise for ...
[full story]
2302 times read
Feb 09,2006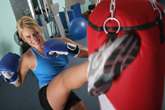 Let's face it. Even the most devoted exercisers can get bored doing the same workouts week after week. And, if the mind is getting bored ...
[full story]
2246 times read
Jan 18,2006
More than ever now there seems to be people with ailments and sicknesses that doctors can not cure. Even doctors claiming to be the best ...
[full story]
5333 times read
Jan 15,2006
With the temperatures plummeting this time of year, many of us tend to hibernate inside our homes. But, hibernating is for bears. As humans it's ...
[full story]
2197 times read
Dec 29,2005
The New Year is quickly creeping up on us. Do you have a New Year's Resolution? Well, if you're like most Americans (88 percent in ...
[full story]
536 times read
Nov 08,2005
By Sharon Kirby Physical activity is essential for general good health. It reduces the risk of coronary heart disease, stroke, diabetes, osteoporosis, high blood ...
[full story]
3240 times read